One brand that I recognize everywhere I go is the Morton Salt Girl! This has been branded as a staple in my household since I was little. I believe it is a staple most people have in their home. It is perfect for recipes and adding to food to make it taste even better. You can use in crafting and for a sore throat it is amazing. We are so happy to wish the Morton Salt Girl a HAPPY 100th BIRTHDAY!!!
In 1914, Morton Salt Company hired advertising agency N.W. Ayer and Company to develop a marketing campaign to promote their salt. An originally disregarded idea was noticed by the son of the founder of Morton Salt Company and the Morton Salt Girl was brought to life. They also adapted a new slogan, "When it rains, it pours." inspired by a well-known proverb of the time. The ad debuted in Good Housekeeping Magazine in 1914, and the Morton Salt Girl was introduced to the world. She eventually would become one of the most iconic and enduring brand figures of all time.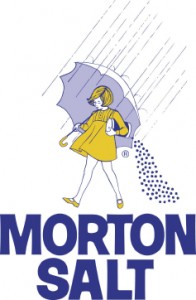 This year we celebrate the 100th Birthday of the iconic Morton Salt Girl. With 100 parties being hosted in 100 cities over 100 days, she is celebrating her birthday in grand fashion. Join in on the fun by tweeting your birthday wishes with the hashtag #MortonSaltGirl100 or by visiting MortonSaltGirl100.com for more fun ways to participate.
Connect with Morton Salt
Official Website: http://www.mortonsalt.com/  Celebrate the Morton Salt Girl's 100th Bday: http://mortonsaltgirl100.com/
"Like" Morton Salt on Facebook
#MortonSaltGirl100